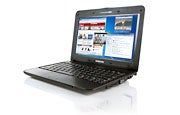 Samsung aims its NB30 mini laptop squarely at people looking for a rough-and-tumble netbook, though that market probably isn't huge. At $379, the NB30 costs only $30 more than its sibling, the less-rugged
N150
. Since the two machines are nearly identical, aside from the NB30's durability features--some hard-drive protection, scratchproofing, and water resistance--it's hard to prefer the N150 to the NB30. Why not spend the extra 30 bucks?
Inside, the NB30 packs predictable hardware for a
netbook
with a WorldBench score of 35 and an average battery life of 6 hours, 34 minutes. The configuration includes an Intel
Atom N450
processor running at 1.66GHz, Intel's integrated GMA3150 graphics, a 160GB hard drive spinning at 5400 rpm, and 1GB of DDR2 RAM. You also get an ethernet port and built-in 802.11b/g/n wireless--but no Bluetooth. There are three USB ports, a VGA-out, a microphone/headphone jack, and a three-in-one memory card reader. The 10.1-inch screen has a default resolution of 1024 by 600 pixels, and isn't glossy at all.
Equipped with drop-resistance technology, the NB30 scans for sudden changes in velocity and moves the read/write heads away from the platter, minimizing damage from drops. The system uses a water-tight seal to protect the interior of the netbook from spills; Samsung reports that the netbook successfully repelled up to 50cc of liquid, removed within 10 seconds. The ribbed, matte-black case resists fingerprints perfectly and should provide some protection against knocks and bumps.

Despite Samsung's nods toward ruggedizing, the NB30 feel as flimsy as most inexpensive netbooks do, with a lot of flex in the keyboard. Pressing against the textured, matte black ribs of the display's backing causes distortion of the image almost immediately, even before the significant flex occurs. The NB30 seems reasonably tough for a netbook, but that doesn't mean it can handle punishment the way a sturdy, full-scale business laptop can.

In return for treating the NB30 a bit more gently, though, you get a competent, inexpensive, lightweight (2.73 pounds) computer with highly portable dimensions: 10.4 by 7.4 by 1.05 inches. The included Windows 7 Starter edition is stripped down (no Aero Peek, for example), but it does start up from sleep very quickly. The machine itself is comfortable to use, with each key surrounded by a small well of free space. Though the keys are a bit smaller than they would otherwise be, the design makes touch typing very smooth. The touchpad is top-notch, with a single-bodied button, built-in multitouch capability, and great responsiveness.

The 10.1-inch screen is LED backlit and can accommodate 1024-by-768 output (though its default resolution is 1024 by 600). Unfortunately, the range of acceptable viewing angles top-to-bottom is lousy. Side-to-side is okay, but the screen isn't big enough to share comfortably. Colors are bright and accurate for a netbook with integrated graphics.

The NB30 is priced a smidge higher than the competition, but those extra dollars fetch a few features that may help this otherwise run-of-the-mill netbook avoid an untimely death.

from www.pcworld.com