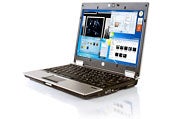 A new
HP laptop
, the EliteBook 2540p assembles zippy components and versatile ports in a nimble case. Though HP's omission of a graphical processor slows the machine down for games and 3D software, this model possesses ample power for nearly any professional application. And the highly portable (3.38 pounds) EliteBook can transform any room into a satellite office.
Priced at $1629 (as of May 5, 2010), the EliteBook 2540p is especially noteworthy for its solid case--a clean, metal-and-plastic design that HP says can withstand 300 pounds of pressure when closed. (If you do run into problems, however, be forewarned that HP ranked last in our
most recent reader survey of manufacturer reliability and service
.) The laptop feels compact and manages to hold out for a solid 5 hours, 34 minutes on a single battery charge.
A 2.3GHz Intel Core i7-640LM and 4GB RAM provide the laptop's pep, helping it to a score of 102 in our WorldBench 6 test suite. The system feels powerful enough to handle Web browsing, Office apps, and virtually any productivity or content creation software. But lacking a dedicated graphics processor, it limped through our low-quality, 800-by-600-pixel Unreal Tournament 3 benchmark at 14.2 frames per second. Other 3D games are similarly unplayable. Business users might not care, but content creators may occasionally want better graphics performance than this model can deliver; even Photoshop can take advantage of a dedicated GPU.

The keyboard works well. The full layout trims some of the extra width from Tab and several other outlying keys, but the keyboard still handles touch-typing quite comfortably. Initially I disliked the texture, which feels like slate and even gets marked up with fingernail scratches (though those scrapes wipe off easily). After a while, however, I got used to the finish.

The EliteBook includes two pointers: a standard two-button trackpad, and a two-button eraser-head joystick. The trackpad feels responsive, while the ThinkPad-esque rubber pointer gets out-of-control a little too often for my taste. Still, both work, and being able to use the input device you prefer is all to the good. Both sets of mouse buttons left- and right-click independently; unfortunately, both sets felt a little too squishy to me.

The matte, 12.1-inch display is well suited for mobile work. It looked best with a lot of background light and was even readable outside. On the other hand, it lacked brightness, seeming more washed out than competing models and displaying less contrast. Forf these reasons, graphics pros might want to consider a different laptop. At least text always looked sharp, and the display can tilt back beyond 180 degrees for versatile mobile use.

The laptop's audio was certainly adequate, though a wider range of tones would have warmed it up significantly; midrange and high-pitched tones came through clearly, while lower sounds drifted away. As a result, rock music and movie soundtracks never sounded credible, though you could put up with either if were stuck somewhere without headphones.

from www.pcworld.com